!Uris Safari Lodge
!Uris Safari Lodge
Located 20 kilometres west of the town of Tsumeb. Surrounded by the ancient Lake Otjikoto and the famous wildlife conservation area, Etosha National Park,
 Campsites
There are two different campsites available.
Campsite 1 – up to 12 pax.
Campsite 2 – up to 18 pax.
Both Campsites are big enough to accommodate multiple vehicles and large groups of people. Each site has its own, "on suite" toilet, shower and basin as well as outside basin, extra tap and built in table – so sharing with another group will not work.
Wood is supplied for the hot water "Donkies", but for fire wood, guests can buy wood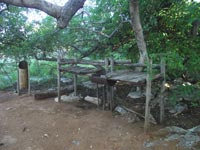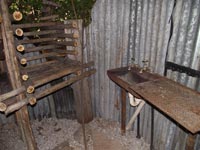 Campers can make use of the lodge facilities like the bar and swimming pool, they can also have meals (dinner, lunch or breakfast) at the lodge, but this is subject to restaurant space and lodge guests activities, so it has to be booked – either in advance, or with reception on check in.
Location
Campsite 1 is situated under a very large Marula tree and has space for up to three vehicles or 12 people. This would be about the maximum for site 1, both in terms of space and ablution facilities.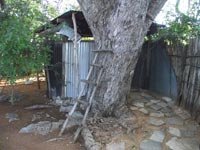 Campsite 2 is situated under a big Marula as well as a big Red Ivory tree. It has a much larger open space with other trees around it, so could accommodate 4-5 vehicles and about 18 people. It also has an extra shower.
Shared camping site:
The camping is for multiple groups at any one time. Our facilities at the Lodge i.e. Swimming pool is available to guests of the campsites. Meals are available on request. The campsite is equipped with 1 shower, (the water for the showers is heated up via a "donkey" – this is a boiler fired with wood), 1 flush toilets, 2 sinks for cleaning of cutlery and 220 V electricity.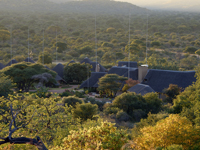 Tel: + 264 67 221 818
Web page: www.uris-safari-lodge-namibia.com